Program The Sages Institute International
The SAGES INSTITUTE, International menawarkan program Advanced Certificate, program sertifikasi, dan juga FunKitchen short course ataupun Corporate Bond. Program Advanced Certificate adalah program pendidikan full-time selama 2 tahun, dilengkapi dengan internship / magang selama 6 bulan. Program FunKitchen short course sendiri adalah kursus singkat, yang memberikan kesempatan bagi mereka yang mempunyai keinginan untuk memperdalam ilmu di bidang kulinari.

Program Advanced Certificate di The SAGES INSTITUTE, International adalah sebagai berikut:
Culinary Arts & Gastronomy. Diajarkan di tahun pertama, ilmu ini berfokus kepada membuat kuliner dari seluruh dunia.
Baking & Pastry Arts. Diajarkan di tahun kedua, berfokus kepada pembuatan roti, kue, cake, pastry, cake decoration, ice cream, dan chocolate sculpture.
Di dalam program Advanced Certificate tersebut, juga dilengkapi dengan beberapa mata pelajaran dari manajemen perhotelan, seperti Arts of Mixology, Table Manner, Hospitality Marketing, dll. Selain itu, juga ada Business Plan dan Strategic Management untuk membantu para siswa menjadi entrepreneur yang handal.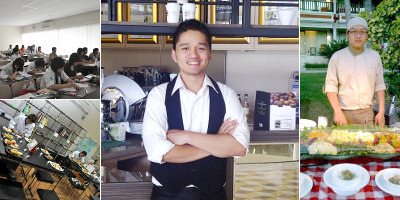 Internship / magang akan dilaksanakan di akhir masa studi, selama 6 bulan. Staff akan membantu para siswa mendapatkan tempat magang / internship di hotel bintang 5 ataupun restoran / cafe ternama.
Para siswa dapat menempuh jalur karir seperti berikut:
Restaurants / Cafe Owner
Restaurants Manager
Restaurants Consultant
Hotel / International Chefs
Celebrity Chefs
Food Stylist and Journalist for Food Magazines
Menu Creator
Event Organizer
Cooking Instructor